Time Trial Helmet Rental:
Rent the Kask Bambino TT lid: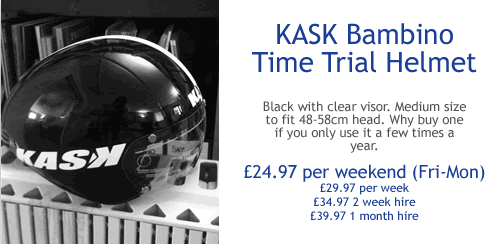 The Kask Bambino was created with synergic co-operation from Team Sky and is designed to be the ultimate tt lid, triathlon and track cycling helmet. Very aerodynamic in all head positions, high tech magnetic visor (patented by Kask) are the exclusive features of this awesome helmet. Without the long shape on the back when the head is moved into various positions there is less drag. The magnetic visor is integrated to the helmet via a simple magnet system. Ventilation is ensured by the presence of 6 air micro-intakes on the front and four exhaust vents at the back. These front and rear vents are connected via an internal air duct system. We currently rent the Kask Bambino in black and size medium to fit a 48-58cm head.. (please ignore the image above) The ultimate helmet as used by Team Sky. Please note: This helmet is supplied with a clear visor.