Most people fork out for a set of high end wheels only to have them used at 1 or 2 big races a year. Why not just hire Zipp wheels when you need them.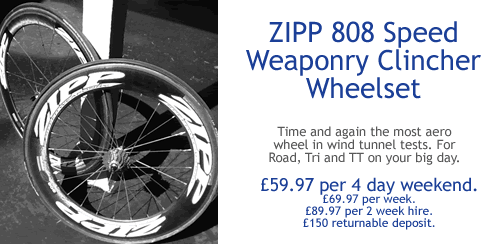 Back to image
Rent Zipp 808 carbon wheels for your next big race. At first, its 82 mm-deep profile appeared only in time trials and triathlons, but is now often seen in road races.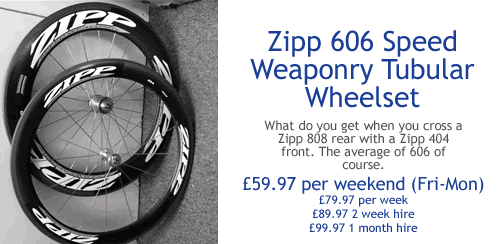 The zipp 606 combines a 404 front and an 808 back wheel. These are tubular and great for lighter riders, or slightly more cross windy days.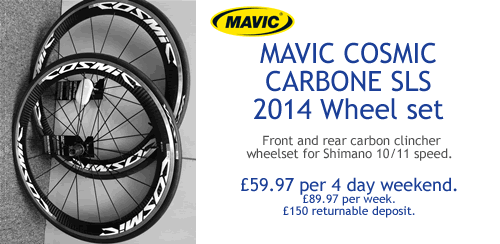 Mavic Cosmic Carbone SLS rental. New for 2014 wheelset features well known Mavic carbon capabilities, blending aerodynamics and high stiffness, with one of the lightest aero clincher rims. Feather light Yksion Pro tyres and new hubs reinforce its responsiveness. Suitable for any riders, road racers and triathletes.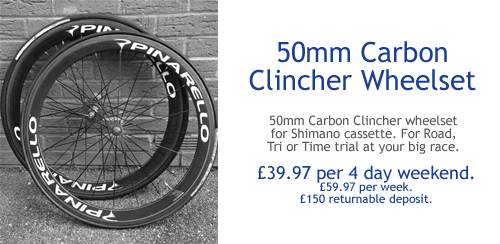 Back to image
Race on some of the best carbon wheels around on this 50mm carbon wheelset.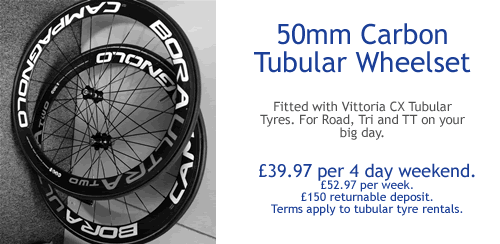 Race on some of the best tubular tyres around on this 50mm carbon wheelset.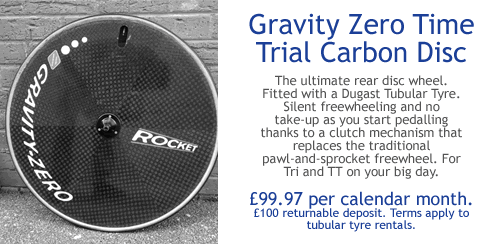 The ultimate time trial disc. Lightweight, with a high end tubular tyre. Gravity-Zero wheels offer silent freewheeling and no take-up as you start pedalling thanks to a clutch mechanism that replaces the traditional pawl-and-sprocket freewheel Conventional hubs lose torque, as there is no momentum to carry the rider's legs over the dead spots at the top dead centre and the bottom dead centre. This disc has a special hub in it too. Zero lag then means the momentum throws each leg over the least mechanical advantage of the cranks at top dead centre and bottom dead centre.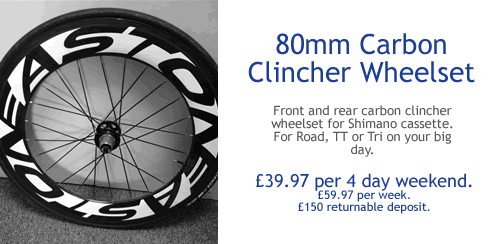 Hire carbon clincher wheels. 80mm full carbon clinchers.
Rent the awesome Zipp 808 with tubular tyres.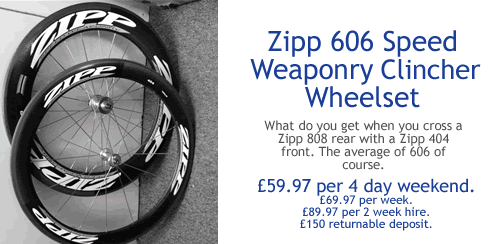 Rent the awesome Zipp 606 set for clincher tyres. This set combines the 808 rear clincher, and the new for 2014 Zipp 60 front (replaces the Zipp 404).
Who can rent?
Certain Conditions.
Most items can be rented and couriered out to you in the UK only. We can discuss delivery. Our units are available to rent from Hertfordshire, UK for your collection and return. Our units are available to anyone, amateur sports persons/fun riders and any UK resident. If you are not a member of a UK cycling governing body we may require extra ID.
Why it works:
Most of us have a few big races per year that are our main goal. Often though, even after spending hundred of pounds to enter their big race, people have not got the use of the best equipment for racing and preparing due to cost. By renting this equipment you can know you are doing your best for your big race.